Cityframes Frankfurt 3D Map CityWall Sculpture
Including the business district, old town, central station, ECB and much more of Frankfurt.
"An authentic, one-of-a-kind masterpiece! A true testament of German engineering & craftsmanship."
★★★★★ - Thomas B
Original price
$4,499.95
-
Original price
$6,299.95
Cityframes Authorized Dealer
Daedalus Designs is an authorized dealer of Cityframes.
Bring the world's most impressive cities to your home
Have you ever had the pleasure of owning something visually stunning and artistic? Our Frankfurt 3D Map CityWall Sculpture is exactly that and more.
Hand-finished by the local maestro in Germany, we connect you to the cities and places you love. Our minimalistic design approach provides distinctive views into the true essence of a city.
We combine Innovative and cutting-edge engineering production technique with unparalleled high-quality and hand-processed 3D Satellite Data to decorate your everyday living and working spaces in an unprecedented way.
Let your eyes wander through the skyline of your CityWall and you will feel like you're right there.
Perfect as a gift for art lovers, new house opening, home office room, commercial and hospitality building.
Product Details:
Dimension:

60 Plates: 1.55m x 0.95m
54 Plates: 1.40m x 0.95m
50 Plates: 1.55m x 0.80m
40 Plates: 1.25m x 0.80m

Material:

 

100% biodegradable plastic
Based on natural corn starch
UV resistant & easy to clean
Matte, plaster-like surface finish

Feature:

 

Made in Germany - 100% high grade & hand-finished
Contact us for Customizable Logo & Branding + Display Options

Mounting bracket included (ready to hang)

Pure White 3D city maps mounted into a black wooden frame. Water areas are cut out and contrast against the white city structures.

Package:

 Customized wooden box with damping foam inlays.
Package Includes:
1 x High-Quality CityWall
What's Included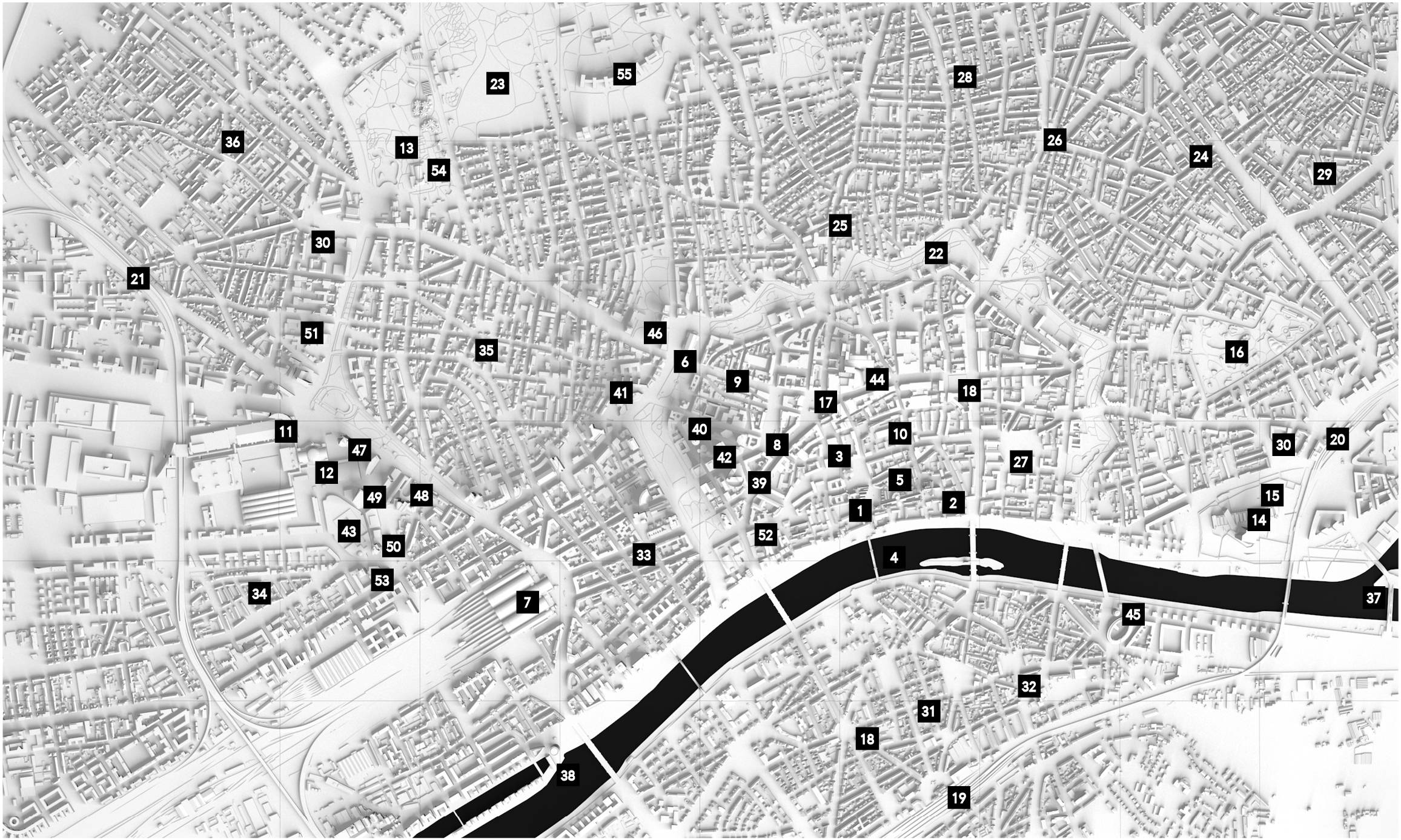 Highlights
Districts & Public Sites
Buildings

1 Römer

2 Dom

3 Paulskirche

4 Eiserner Steg

5 Neue Altstadt

6 Alte Oper


7 Hauptbahnhof

8 Rossmarkt

9 Fressgass'

10 Kleinmarkthalle

11 Messe

12 Festhalle


13 Palmengarten

14 Europäische Zentral Bank

15 Gedenkstätte Großmarkthalle

16 Zoo

17 Hauptwache

18 Konstablerwache

19 Südbahnhof

20 Ostbahnhof

21 Westbahnhof

22 Anlagenring

23 Grüneburgpark

24 Berger Straße

25 Oeder Weg


26 Friedberger Platz


27 Börneplatz

28 Nordend

29 Bornheim

30 Ostend

31 Sachsenhausen

32 Alt-Sachsenhausen

33 Bahnhofsviertel

34 Europaviertel


35 Westend

36 Bockenheim

37 Osthafenbrücke

38 Westhafen

39 Commerzbank Tower

40 Main Tower


41 Deutsche Bank Türme


42 Omniturm

43 Skyline Plaza

44 MyZeil


45 Lindner Turm


46 Opernturm

47 Messeturm

48 Tower 185

49 ONE Tower

50 Grand Tower

51 Meliá


52 WINX

53 The Spin

54 Gesellschaftshaus

55 Goethe Universität
Production Time

Each CITYWALL is produced individually in Germany. The estimated production time ranges from 1 - 3 months. After placing the order we will contact you with an estimated shipping date. Below is the estimated production time.
Trade Program & Wholesale

✅ Wholesale & Corporate Purchase

Hosting a large event or corporate purchase? We're happy to provide custom pricing and bulk discount. Contact us to request a quote.

We're excited to invite Interior Designers, Architect, and Hospitality firms to join our Trade Program to access special offers on select Daedalus Designs collections including furniture, rugs, sculptures, bedding sets, and upcoming collections.

Approved Trade members can login to receive Trade-Only pricing in checkout. If you are interested in joining our trade program, please visit our trade program page to learn more and submit an application.